VPS Hosting Dubai UAE Linux | Windows
Our Best Linux VPS Hosting and Windows VPS Hosting is power-packed with exclusive data center services. We provide enterprise-grade resources and customer support services with our UAE VPS Server. Server Wala ensures that you get exclusive benefits with our VPS Server package. Enjoy the custom made configurations based on the latest technology with Server Wala Data Center Services.
Server Wala offers the UAE VPS Server in all the prime locations, including Abudhabi, Ajman, Dubai, Sharjah, and many more.

Free IPv6 Support

Full Root Access

1 Gbps Network
Speed *

SSD Disk Drives

7 Days Credit Back Guarantee *
Credit back means the amount spent by user for service will be credited to Server Wala client profile rather than original payment method. For more details please check the terms and condition.

99.90% Network Uptime
Choose Your Best & Cheap VPS Hosting Plans in UAE
Enjoy Our Data Center Services With Exclusive and Intense Resources With Greater Flexibility in All Prime Locations
| | | | | | | | |
| --- | --- | --- | --- | --- | --- | --- | --- |
| Starter | 1 Core | 1 GB DDR3 | 25 GB SSD | 500 GB @ 100 Mbps Shared | UAE | | |
| Basic | 2 Core | 2 GB DDR3 | 50 GB SSD | 500 GB @ 100 Mbps Shared | UAE | | |
| Premium | 4 Core | 4 GB DDR3 | 100 GB SSD | 500 GB @ 100 Mbps Shared | UAE | | |
| Enterprise | 6 Core | 6 GB DDR3 | 150 GB SSD | 500 GB @ 100 Mbps Shared | UAE | | |
| | | | | | | | |
| --- | --- | --- | --- | --- | --- | --- | --- |
| Starter | 2 Core | 2 GB DDR3 | 50 GB SSD | 500 GB @ 100 Mbps Shared | UAE | | |
| Basic | 3 Core | 3 GB DDR3 | 80 GB SSD | 500 GB @ 100 Mbps Shared | UAE | | |
| Premium | 4 Core | 4 GB DDR3 | 120 GB SSD | 500 GB @ 100 Mbps Shared | UAE | | |
| Enterprise | 6 Core | 6 GB DDR3 | 150 GB SSD | 500 GB @ 100 Mbps Shared | UAE | | |
Key Features of UAE VPS Hosting

24/7 Customer Support
Our data center support services are 24*7 available via Live Chat, Email, Skype, Ticket system. If you have any technical issues and other billing-related queries, connect us directly and get an instant solution.

Full Root Access
Our Rooted UAE VPS Server enables you to operate and control your server without any restrictions. Install OS compatible and needed software as per your business demands.

DDoS Protection
Our Servers are highly compact with ultra-secure firewalls to protect your data from DDoS attacks. The System automatically detects the incoming malicious threats from the web and provides safeguards to your data.

1 GBPS Network Speed*
Our VPS Servers come with the ultimate band of network and secure connections to provide you a 20X faster connectivity experience. We ensure you get the highest connectivity of 1 GBPS.

Monthly 10 TB Data Transfer
All the Server Wala Data Center Services comes with unlimited bandwidth to help you accomplish your business website needs. UAE VPS Server allows up to 10 TB monthly data transfer rate with all plans.

99.90% Uptime
All our VPS Hosting supplies the redundant power and continuous secure channels to provide the high tech network flexibility to give you the highest uptime and zero downtime.
Who Should Choose a Cheap VPS Server in UAE?

High Traffic Websites
When a business starts outgrowing, it's hit with a large number of website visitors which increases the traffic spike on the website. Shared Hosting is unable to handle this traffic spike. Therefore, our cheap UAE VPS Hosting is best for your business because it has the potential to run your website without facing downtime.

Agencies with High Profile Clients
Our agency builds the trust of many users worldwide by serving VPS in the UAE, blazing fast and ultra-reliable services. We have helped in accomplishing the website requirements of dozens of people by providing them 100% satisfactory VPS Hosting services.

Resell Your Resources
It is always an excellent thing to sell your resources as a service or complete VPS Hosting to a third party. Our Cheap VPS UAE Hosting comes with the dedicated resources that allow you to resell resources with the potential to generate more revenue.

Giant eCommerce Portals
Rolling up a business is possible when you get the highest uptime. Isn't it? Yes. Our UAE VPS Server comes with robust services and excellent uptime that provide the accelerated services to uplift your e-commerce websites.
Why is Serverwala's VPS Hosting the Best in Dubai, UAE?
One popular thing that imparts Server Wala an edge over other data centers is the trust it builds by providing worthy resources with complete transparency and customer-focused support. All of our UAE VPS is power-packed with straightforward local and global regulations. Being an offshoring data center service provider, we give our best to serve you with cutting edge quality services in terms of performance, speed, scalability, and security. Opt for the VPS Server to enjoy the fast and outstanding hosting experience from Server Wala.

Get Ranking Boost
in Search Engine(s)

Datacenter
Security

Regular
Backup

Better Stability
and Speed

Carbon
Conscious

Upgrade
Anytime
UAE VPS Hosting Use Cases
VPS for eCommerce
Serverwala offers a Cheap Windows VPS server in UAE for eCommerce platforms. It ensures better performance of the website and boosts the SEO experience of users.
Education and training
Interested or keen to learn a programming language and software development? Linux VPS in UAE is the best one that opens up many career opportunities in web application development.
Small Business Use
Set up your virtual private server for your small to moderate business in the UAE, with our completely customizable services. It helps to boost your site performance and gives freedom to host multiple domains.
Game servers
You can use our Cheap VPS UAE Hosting to host Gaming websites and applications but with limited functionality. It means limited players can play the game at a time.
Testing new web apps
Our VPS in UAE is an excellent way to test your newly developed applications. It will neither charge you like a Dedicated Server; instead, it provides you a better and isolated test environment.
WordPress
If you are more friendly with the latest technology and want the control to operate your server, you can buy a VPS UAE server to host your WordPress website. It serves you the potential to customize your VPS services for your website.
What is Virtual Private Server
Virtual Private Server (VPS) is a private, highly secure, and scalable web hosting type. Generally, the users who can't afford the Dedicated Server but need higher scalability, reliability, security, and backup resources more than a Shared Server, opt for the VPS Server in UAE. Our VPS Hosting provides you the experience of enterprise-grade resources and customer-focused services using its virtualization technology. It will give you the authority to utilize the intense resources to serve multiple users' requirements.
VPS users get ease to use platform for website hosting with potential access to the virtual machine. Therefore, it becomes easy for the VPS UAE users to run their website on a smooth platform. You have the flexibility to pick the best and user-friendly Cheap VPS in UAE.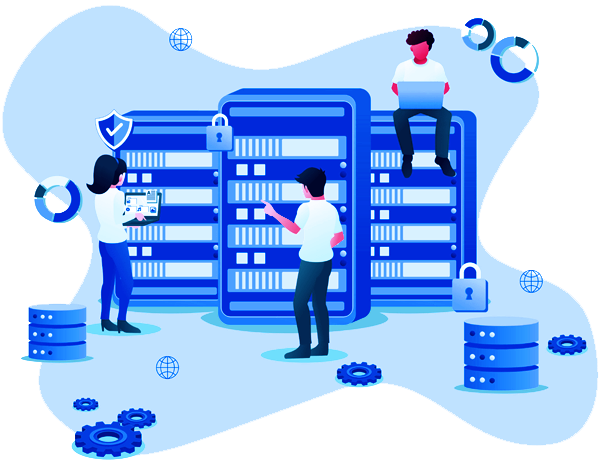 Linux VPS Server
Representing your business website on the Cheap UAE VPS Hosting with Linux technology for better functionality is generally termed as the Linux VPS Server. Linux is one of the most popular open-source operating systems that offer advanced and enhanced software services at zero cost. Our fast VPS Server offers you the greater availability of resources so that you experience better performance and high speed.

Windows VPS Server
When a VPS server comes with Windows technology it is known as the Windows VPS Server. Our VPS UAE based hosting offers you your own platform with intense and devoted resources. Guaranteed uptime and advanced data security are the primary benefits we serve with our hosting package.
Get Pumped Up VPS Hosting of Your Desired Location in UAE
Advantage of Using Cheap VPS in UAE

Cost Savings
Are you looking for fast VPS Server plans at an affordable price? Our VPS UAE hosting serves you high functionality resources with round the clock support to intensify your business growth.

Improved reliability
Host your website on our Cheap UAE VPS Hosting to experience the highest reliability. You can rely on our trustworthy data center services that offer you greater resource availability.
Improved performance
How far is an excellent performance if the site is hosted on a server with robust hardware tools and under a secure network? Opt for the VPS UAE unlimited bandwidth plan to experience seamless performance.


Security-as-a-Service
Our cheap windows VPS hosting UAE plans come with advanced data security that integrates all the security features to keep your data protected from outside attacks.

Simple Licencing
Our low-cost VPS UAE Hosting charges you significantly less for the simple licensing. It means you can buy a license for your website easily in one click.

Fully managed service
Our VPS UAE hosting comprises fully managed and organized services that provide an easy-to-use use platform. It includes 24*7 server monitoring and instantly troubleshoots services.

Scalability
VPS Server offers highly scalable resources that you can utilize to build up your website and scale up the services and resources whenever your website demands more resources.

Self Service Portal
We provide the full control panel options with our VPS UAE server to perform multiple functionalities and regular activities at a time, including restart, stop reload, change password, and much more.

Supermicro's Chassis
We offer the best state in class processor and a SuperMicro blade to monitor and complete maintenance of your VPS Server. By default, all nodes are RAID 1.
Frequently Asked Questions About - VPS Hosting UAE
The user who has strong technical skills basically operates and handles a Cheap VPS Server. It is also important to have knowledge of how to work with the operating systems, whether it is Linux or Windows. Just think you want a Windows VPS Server but do not have technical knowledge. You might not be stressed out. Our best VPS Hosting UAE server provides you a completely managed platform with 24*7 support.
Best VPS in UAE is an affordable and upgraded version of a Shared Server while providing you plenty of functionality to perform multiple tasks. Whether you have to customize your resources and make some changes and modifications through cPanel, Cheapest VPS UAE Hosting is ideal.
Our Best VPS Hosting in UAE packages will give you 100% satisfied and trustworthy web hosting resources on which you can rely and intensify your business growth.
Why UAE VPS from us? We provide cutting edge hosting resources with Dedicated RAM and huge SSD Storage along with SSH root access. We also provide you the numerous control panel options with advanced features and 24*7 Support. If you are not satisfied with our services, we will also refund your money.
VPS Server, as per name an utterly private platform that offers its own resources and unique IP address for website hosting. Hence provide higher security. Our UAE VPS Hosting comes with inbuilt security software and secure firewalls to protect the website data. We also provide the Denial of Service attacks and SSL certificate for high security.
Before making any decision for choosing a location, just ensure where your customers generally belong to. It means to check if they belong to the UAE then try to host the website on a VPS UAE based server to provide them outstanding network infrastructure and outstanding website performance.
VPS is a Virtual Private Server web hosting platform that uses open source technology like Linux is known as the Linux VPS Server. Being a popular open-source platform, it provides numerous web hosting services and some free of cost applications. It comes with its own dedicated resources and unique hosting platform.
The primary difference between Linux VPS and Windows VPS is OS itself. Linux VPS is an open-source, cheap, and easily manageable web hosting platform. On the other hand, Windows VPS is a user-friendly web hosting best in providing higher data security and performance. It is quite more expensive than a Linux VPS.
When a Virtual Private Server uses windows technology to host and run the website, it is termed as the Windows VPS Hosting. With the best VPS Hosting UAE, you get the flexibility to enjoy the user-friendly operating system functionality in a Budget-friendly environment. Windows is a familiar OS and mostly compatible software platform that allows easy installation of your choice of applications in one click.
VPS Hosting is a type of web hosting that is highly used for doing live online businesses. Any user can host their small to mid-scale business website on a UAE VPS Server. You will get the complete independent platform, dedicated resources, and exclusive root-level access with VPS plans. Our VPS Server ensures you guaranteed enterprise-grade resources for enhanced functionality and better performance.
VPS Server comes with a broad range of highly reliable and flexible advantages for your business website, including
Data Security
Large Storage
Backups
Unlimited Bandwidth
Root-level Access
Dedicated Resources
Yes! If you run your website and are stuck somewhere because of limited resources or outgrown with shared services. You can upgrade your VPS plans any time, just in one click.